A deteriorating 108″ Corrugated Metal Pipe located in Joint Base Charleston in North Charleston, SC was in need of renewal. The pipeline is located near military housing and a recreation area right off of a busy road. A large diameter trenchless lining solution was needed for this repair. 
Choosing Spiral Wound Lining
The existing 108″ CMP needed roughly 110 linear feet of rehabilitation. The job also called for a method to be installed within live storm water flow, since bypass pumping was not feasible for this application. A 102″ SPR™ PVC liner was the proposed solution. The fully structural liner would be grouted in place upon lining the 110 LF segment.
Gulf Stream Construction, a General Contractor in South Carolina chose Spiral Wound installer, Ruby-Collins inc., to perform the rehabilitation work. Ruby-Collins set out to renew the failing CMP in April 2021.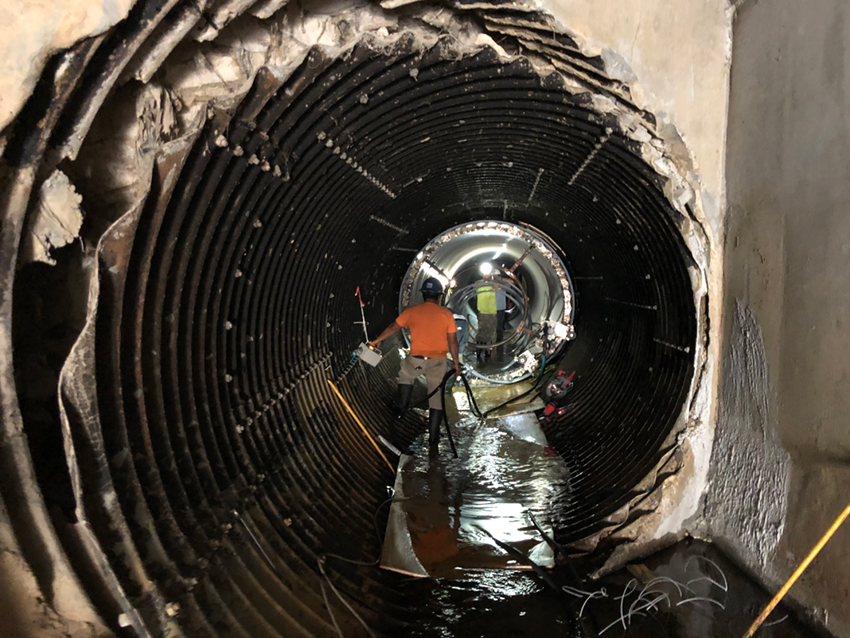 Project Challenges & Completion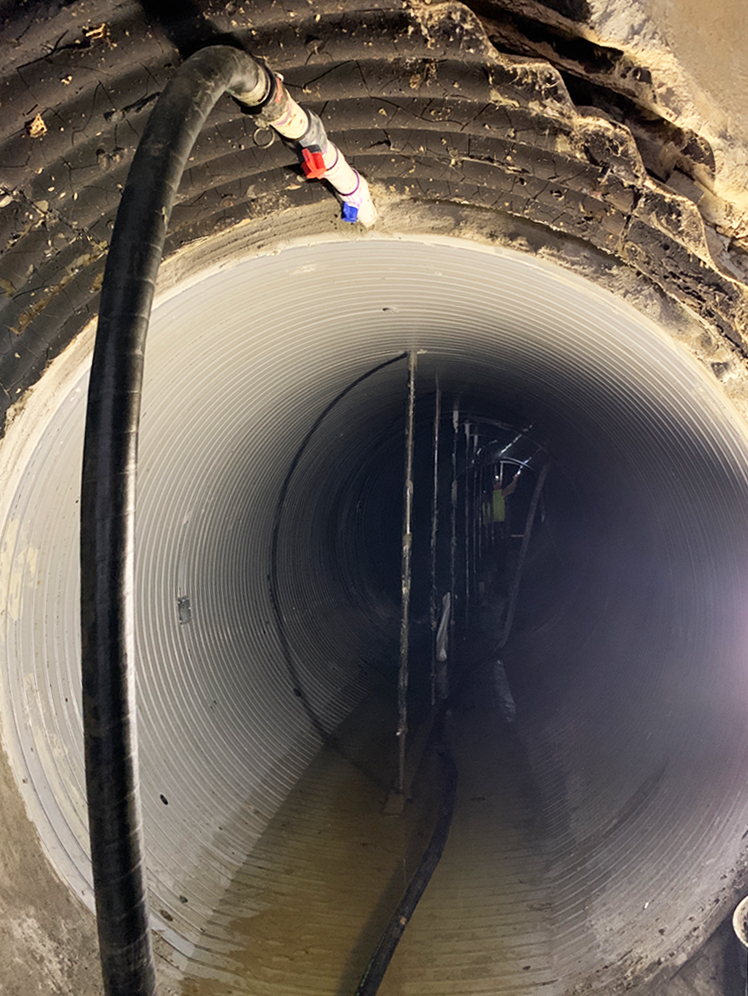 SPR™ is a traverse winding method, meaning the machine travels the pipe segment while constructing the liner. The 110 LF length to be renewed was a continuous segment, however, Ruby-Collins witnessed some challenges due to some unexpected ovality within the pipeline. These issues were addressed by modifying the winding machine at various points within the pipeline. After these adjustments, the lining portion was able to be completed.
Once an SPR™ liner is installed, the annular space between the pipe wall and liner needs to be filled with grout. The installed PVC liner is braced internally (pictured to the right) and grout is subsequently installed in stages. The 102″ liner was successfully grouted, resulting in a fully rehabilitated pipe for Joint Base Charleston.
About Our Spiral Wound Installer
Ruby-Collins, Inc. is headquartered out of Smyrna, Georgia and mainly performs work in Georgia, Florida, North Carolina, and South Carolina. Ruby-Collins, Inc. specializes in Water and Wastewater Treatment Facilities, Utilities of all sizes, Sanitary Sewer Systems, Storm Water Systems, Water Systems and Force Mains, Pump Stations, and Tunnels.
Pipe Rehabilitation Project in the Southeast?