As part of a pioneering Japanese manufacturer in North America, SEKISUI SPR has the expertise and ability to restore your damaged or old pipes through a unique trenchless pipeline rehabilitation method. This innovative repair method decreases the environmental impact while extending the life of your pipelines exponentially. Read on to learn all about our process and why trenchless pipe installation is the way of the future.
Trenchless Pipe Lining Overview
Trenchless pipe lining, commonly referred to as trenchless pipe rehabilitation, is a growing innovative methodology used to restore aged and deteriorated pipelines without digging. There are obvious advantages to this form of repair. The cost of trenchless pipe lining is typically far lower than digging and replacing the old pipeline and the eco-friendly benefits are more than worthwhile. 
Many sewers, storm drains, and culverts were first installed in the early 20th century. Since then, the above-ground environment has changed significantly. Neighborhoods, roads, and parks that did not exist years ago currently sit directly on top of the aging infrastructure, making it much more difficult to repair.
The price to completely replace one of these pipes can reach uncomfortable heights; not to mention the public disruption. Spending on rehab has steadily increased over recent years and especially over the past few decades. For this reason, trenchless pipe installation methods to restore pipelines without digging have emerged and created a thriving market.
Traditional vs. Trenchless Pipe Lining
Both traditional pipe repairs and trenchless pipe lining serve the same purpose — to restore deteriorated pipes. Nonetheless, the execution of each method varies widely.
Traditional dig and replace processes are generally useful. However, it has become an invasive method, with dig and replace or repair worksites disrupting the public. Likewise, digging displaces the ecological environment. Furthermore, The process is typically more expensive and time-intensive.
On the other hand, trenchless pipe lining is an innovative, cost-effective, and ecologically forward solution to renew pipes. Keep reading to learn more about trenchless pipe lining benefits.
Trenchless Pipe Lining Benefits
While there are many solutions to rehabilitate your pipelines, the trenchless pipe lining method is an ideal solution. Check out just a few of the benefits of choosing a trenchless pipe installation process like Spiral Wound Lining below:
Eliminate Digging and Excavation
Traditional methods often require extensive digging or excavation to complete a full repair. With a trenchless method, there's no need to disrupt the environment or public with this excessive digging.
SEKISUI SPR's Spiral Wound lining is completely trenchless, eliminating the need for digging or excavation. This eliminates the costly disruption of heavy construction above-ground to restore underground infrastructure.
Cost-Efficient Process
Trenchless pipe rehabilitation is a highly cost-efficient method that uses advanced technology to complete the repair while still meeting the highest industry standards. Though there may be additional factors that play into the overall cost of this process, it's a budget-friendly option for repairs. 
Spiral Wound rehabilitation can also be conducted in live flow conditions, which decreases the need for temporary bypass pumping. The speedy process of this pipeline rehabilitation method also requires less labor than a traditional repair, typically decreasing labor costs. 
Variety of Pipes
With the innovative technology used by SEKISUI SPR, we can access and repair a wide range of pipe diameters and shapes. Our different winding machines offer a variety of capabilities spanning from small diameter renewal to large and non-round pipe rehabilitation.
---
Pipe Rehab Applications
Trenchless pipe lining technologies cover a broad range of pipe diameters, shapes, and materials. Brick, clay, concrete, CMP, metal, and other types of pipes are ideal candidates for relining. Pipeline rehabilitation methods are possible for diameters as small as 2″ to pipelines larger than 200″. Additionally, some trenchless methods are capable of lining round and non-round-shaped pipelines.
The technologies serve numerous pipe applications — lining methods exist for both gravity and pressure pipelines. Water mains, sewers, storm drains, and culverts have all been relined with trenchless technologies. In short, the capabilities of these liners make it possible for nearly every pipe to be restored without having to dig.
---
Trenchless Lining Methods
Some of the primary trenchless pipe lining methods include Spiral Wound Lining, cured-in-place pipe (CIPP), slip-lining, pipe bursting, and spray-in-place pipe (SIPP). These rehabilitation methods vary by material and installation process. Let's take a closer look at the differences between these methods.
Spiral Wound Lining
Spiral Wound mechanically installs a wound PVC liner inside a pipe. The process can be installed in live flow, minimizing the need for bypass pumping, and is fully structural. Spiral Wound is applicable for gravity sewer, storm drains, and culverts.
There are two ways that Spiral Wound Lining can occur — manually or mechanically. Often, pipeline specialists will determine the best route for completing this process after evaluating the pipeline structure and design. Mechanical Spiral Wound lining meets the material and installation standards detailed in ASTM F1697-18 and ASTM 1741-18. 
Cured-in-Place Pipe (CIPP)
CIPP is a method that uses a resin-impregnated tube inserted or pulled and subsequently cured in place to form a pipe within a pipe. It is another fully structural solution. This method is used in both gravity and pressure pipe applications.
CIPP also follows standards such as ASTM F1216-16 and ASTM F1743-17. These standards provide guidelines and instructions regarding proper installation and requirements for fully deteriorated applications.
Slip-lining
Slip-lining slides a flexible, slightly reduced diameter pipe within the existing pipe. The space between the liner and pipe is grouted. The slip-lining method offers a fully structural renewal of the new pipe using material such as HDPE, PE, FRP, or even PVC.
Pipe-Bursting
Using a bursting-head, pipe-bursting eliminates and replaces the old pipe underground. This new pipe is often a structural, supportive material as it must withstand the same weight the previous pipe did.
Additionally, since this trenchless pipe installation method removes the existing pipe, upsizing to larger diameters is possible.
Spray-in-Place Pipe (SIPP)
Spray-in-place lining involves coating the interior of a pipeline with polymeric materials for restoration. The process is approved for potable water.
---
The Trenchless Pipe Lining Process
Once you've noticed any damage or potential hazards with your pipeline, it's essential to contact a pipeline specialist immediately. The faster you can begin the trenchless pipe installation process, the less impact your damaged pipeline will have on the community.
Pre-Rehabilitation
Depending on the technology, the trenchless pipeline rehabilitation method and process will vary. In most cases, the steps before installation include:
1. Pipe Inspection
During the pipe inspection, trained professionals verify the pipe condition and identify any issues that need repair. This step affirms the repair methods that will be used.
Regular maintenance of your pipelines can help these professionals identify an issue and determine the proper repair method much quicker.
2. Pipe Cleaning
The purpose of pipe cleaning is to rid the pipe of any debris and create a smooth wall surface ready for lining. This will also improve the efficiency of the pipeline once the repair has been completed.
3. Liner Assembly
During this step, the pipe liner installation takes place. The line is first prepared using the proper tools before being safely installed.
Further steps may be taken pre-rehab depending on the type of pipeline being repaired and the extent of the damage. For example, service connection locations may be marked prior to lining for the purposes of reinstatement post-rehab.
Additionally, many pipe rehab technologies will require a flow diversion or bypass pumping plan. This is to guide flow away from the lining materials/process during construction. The lining method may also call for some form of pit excavation to increase the access size at the pipe's entrance. These preparations would need to be in place prior to rehabilitation.
Liner Installation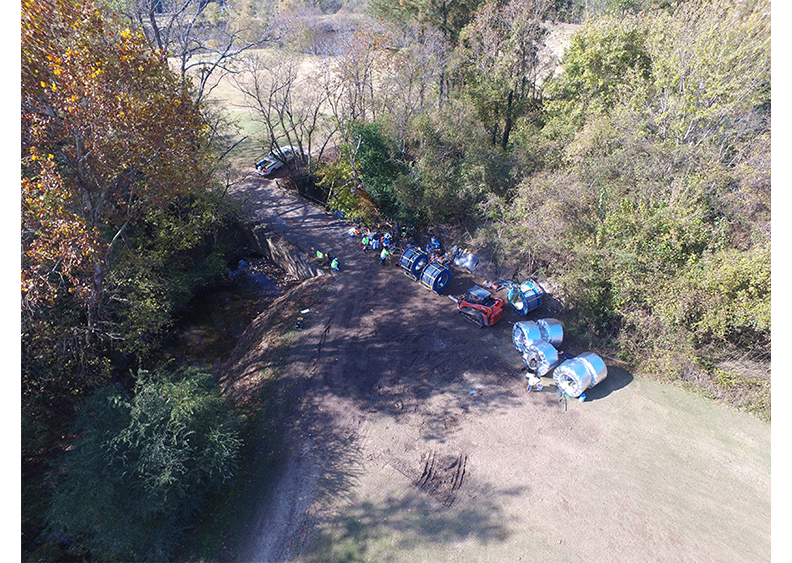 Spiral Wound Footprint
When the pipe is prepared and ready, the liner installation begins. The proper equipment and materials are put in place within the pipeline and the renewal process commences.
Spiral Wound Liner Installation
For Spiral Wound (and most trenchless pipe lining methods), the actual pipelining can take anywhere from one day to several months, depending on the scope of the project and method chosen. The initial liner is installed whether by inversion (CIPP), mechanical winding (Spiral Wound Lining), insertion (sliplining), or by means of any other method. The Spiral Wound installation process includes:
1. PVC Liner Construction
Once the machine has been lowered into the manhole/pipeline, a continuous strip of PVC is fed from an above-ground spool directly inside the pipe. The edge of the PVC strip is locked together, forming a liner within the host pipe. If the Spiral Wound method is tight-fitting (6"-60"), no bracing and subsequent grouting is required.
2. Bracing for Grout
If the PVC liner requires the annular space to be filled, bracing is installed within the liner for stability during the grouting process.
3. Grouting
Grout is injected between the initial pipe and the constructed liner for certain PVC liners. The grout installation takes place through a series of lifts. This grout ensures the new pipe is securely in place and adds additional structural support to the existing pipeline.
4. Liner is Sealed
If the PVC liner is tight-fitting and service connections (if applicable) are reinstated, the installation process involves only steps one and four. All PVC liners are sealed at the termination of the pipe.
Minor traffic disruptions may be present during the installation, as small crews and trucks work out of an access point such as a manhole. Often this leads to single-lane closures, if that, conditional to the lining technology's above-ground footprint.
---
Experience the Future of Pipe Lining Technology with SEKISUI
Most lining methods are designed for a minimum 50-year design life — although that does not mean 50 years will be the point of deterioration. The revolutionary technologies used at SEKISUI SPR adhere to these necessary ASTM standards but can be expected to remain serviceable for years beyond the 50-year mark.
Lining technologies are becoming more efficient and trustworthy as time moves forward. As the costs of digging up communities continue to rise, the methods of restoring below-ground infrastructure will advance. Our trenchless pipe lining technology is moving in the right direction in terms of environmental impact and efficiency. We work continuously every day to ensure that our methods are eco-friendly and create long-lasting pipelines.
Contact us today to learn about how we can help rehabilitate your pipe.
Spiral Wound Lining
SEKISUI SPR's Spiral Wound Lining repair method offers an innovative approach to pipe rehabilitation; using machines to install PVC in existing pipelines. This revolutionary technology speeds up the process, reduces cost, and extends the lifespan of your pipelines exponentially.