New Delhi Municipal Corp. (NDMC) is responsible for providing Sewerage Facilities for the New Delhi Area, covering an area of about 42 sq.km. This sewer line is a brick barrel and was laid in 1942 in pre-independence British India. There is an additional sewerage line of 2100 mm parallel to the one needing repair. There are other peripheral lines attached to pipeline as well. The area is inhabited by VIPs and government functionaries such as MPs, Ministers and other Bureaucrats. Additionally, the roads of KG MARG connecting to India gate to Connaught Place are some of the most important roads in New Delhi.
The road at Firoz Shah Crossing was in a dangerous situation as the soil between the sewer line and the road had washed out and the road was unsupported. This happened because the sewer's crown had previously broken leading to exfiltration which made the soil moist and ultimately washed it away. Rehabilitating at such sites can be extremely challenging, particularly when working in difficult site conditions with extremely heavy traffic and a lot of restrictions in place due to a VIP area. Ashwath Infratech was awarded a project by NDMC. The project was located KG Marg, New Delhi.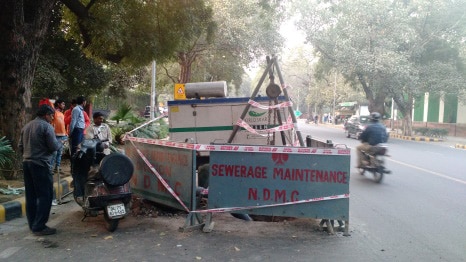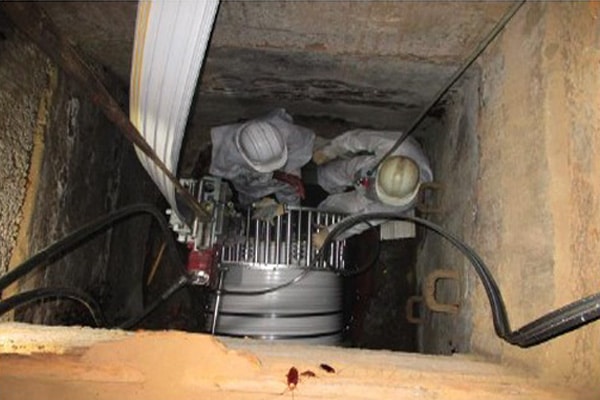 The scope of work included the rehabilitation of 900 mm Man entry sewers. Sekisui's Machine Wound Spiral liners (MWSL) were the best trenchless rehabilitation solution for this project. First, Spiral Wound liners could be designed a structural repair solution for fully deteriorated pipe conditions as well as increase overall hydraulic capacity due to the improved Manning's coefficient. The MWSL (SPR™ST) construction footprint is small and the set up fast and efficient. 
The installation equipment is highly portable, allowing the contractor to do difficult and remote access set up. Due to the environmental and biological concerns from construction materials and methods, it was imperative that the contractor use the most environmentally friendly construction materials. As Spiral Wound liners are mechanically installed, there was no concern about potential styrene contamination as would be the case if the contractor used a resin impregnated liner.
Execution turned out to be more challenging than expected as the sewer line was more than 6 meters deep. It was also found that this line was previously repaired using cement pipeline, connecting to a manhole which was 15 meter deep, which was connected to a very old brick barrel line. Desilting was also very challenging as 70-80% of line was blocked by the silt. Bricks/heavy boulders were also found blocking the line. Furthermore, it was discovered that a tree root had also intruded. 
Many utility cables (Electric, Telephones, Water) were also intruding the sewer line. This included a cable connecting the Prime Minister's and President's residence located in the center of the sewer line. Care had to be taken not to disturb all of the cables. Traffic management is always one of the biggest challenge in cities like Delhi and considering VIP area, traffic could not completely stop. One more challenge was water diversion. MWSL proved very handy as the manhole was only 700 mm wide and hence modular design of the machine made it possible to assemble the machine inside manholes.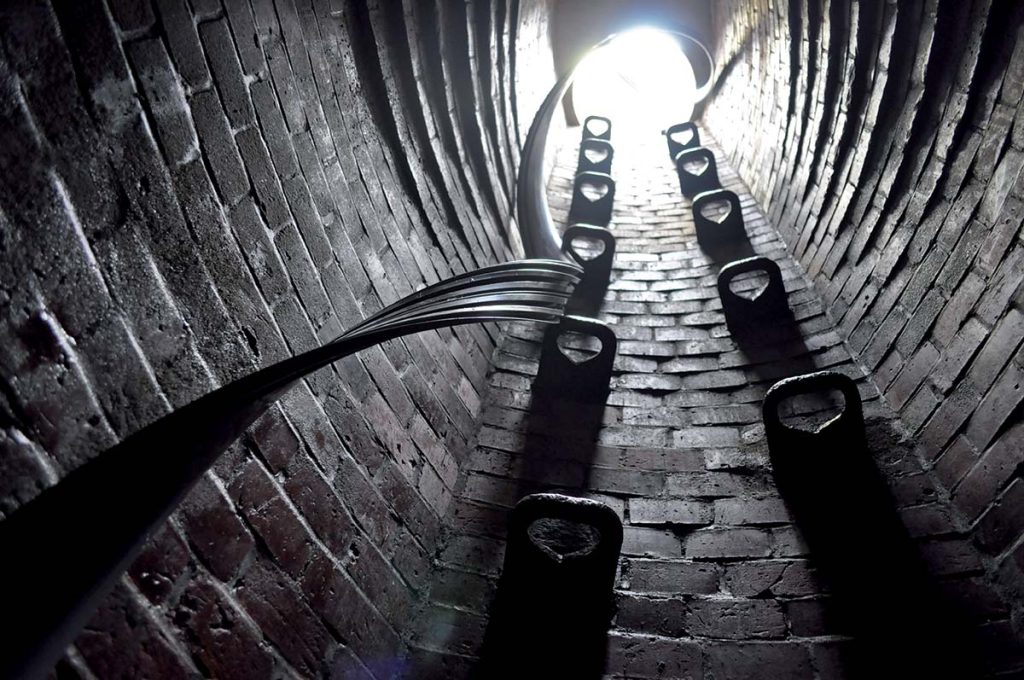 The Machine Wound Spiral Liner Solution
SPR™ST is a fixed diameter lining solution for 600 mm – 3000 mm diameter gravity pipelines. SPR™ST is a fully structural liner suitable for non-pressure applications, and is commonly used for drainage and sewer applications. The SPR™ST system constructs a high stiffness liner by simultaneously feeding the factory-made QC assured PVC profile with steel reinforcing bands from an access chamber and through a patented winding machine. The SPR™ST winding machine spirally winds the plastic-steel composite liner to form a fully structural pipe, capable of withstanding combined hydrostatic, soil and live loads.
The SPR™ST winding machine is hydraulically driven, making the system safe in a pipeline environment and also minimising the noise produced by the equipment. Furthermore, the entire installation process can be done in live flow conditions typically without the need for bypassing. This was first time that SPR-MWSL was used in NDMC, despite all the challenges the project was successfully completed within 2 days, with minimal disturbance and fulfilling all the design requirements. It was real trenchless solution, as no digging took place at site and the sewer line was functional immediately, which was highly appreciated by the Chief Engineer of NDMC.